When Gregory Polanco was called up to the big leagues in 2014, Pirates fans were understandably excited. He was their top prospect at the time, and Polanco had just spent nearly 70 games tearing up AAA pitching. In 305 plate appearances that year, he slashed .328/.390/.504 with a wOBA of .397, and a wRC+ of 146. With Andrew McCutchen and Starling Marte, it looked like Polanco's addition would immediately give Pittsburgh MLB's best outfield. However, that was not immediately the case.
In Polanco's first two seasons, his cumulative wRC+ was a below average 92; his wOBA was a meager .301, and his ISO was just .120, .055 points below what he posted in AAA before being promoted. While the Pirates, and their fans, certainly didn't give up hope that Polanco was going to turn into their next elite outfielder, his lack of significant improvement didn't instill much confidence. But, just 24 games into the 2016 season, it appears that Polanco has finally arrived.
| Season | PA | BB% | K% | ISO | wOBA | wRC+ | WAR |
| --- | --- | --- | --- | --- | --- | --- | --- |
| 2014 | 312 | 9.6 % | 18.9 % | .108 | .293 | 88 | 0.3 |
| 2015 | 652 | 8.4 % | 18.6 % | .125 | .304 | 94 | 2.3 |
| 2016 | 105 | 15.2 % | 12.4 % | .198 | .386 | 140 | 1.3 |
Polanco is set to eclipse every career best at his current rate. His ISO has jumped to its highest level ever (including the minor leagues), his wOBA and wRC+ values are excellent, and with just 105 plate appearances under his belt, Polanco is within one fWAR of tying his production from 2015. However, those data points aren't the most interesting ones; it's his walk and strikeout rates. Not only has Polanco cut down on his strikeout rate by 33 percent, but he's also increased his walk rate by 80 percent. He currently has MLB's 18th-best walk rate, and among the leaders, he's one of 10 players who's BB rate is higher than their K rate.
Given that April just ended, people that are skeptical of increased player performance are still screaming "SMALL SAMPLE SIZE" at their laptops, but Polanco's peripheral adjustments may  already be demonstrating actual talent.
"With respect to sample size, it's important to know that K% and BB% tend to 'stabilize' in a relatively low numebr of PA. You don't need more than about 60 PA for K% of 120 PA for BB% before the numbers start to become meaningful, which means that it's very unlikely that even a half season of K% or BB% are simply functions of random various. More directly, a player's K% and BB% are skills that you can estimate from a reasonably small amount of data."
While Polanco hasn't yet reached the 120 PA mark that FanGraphs estimates is necessary to be truly confident in a player's walk rate, he's only 15 PA away. Even if he failed to walk in each of his next 15 plate appearances, his then-13.3 percent walk rate would still be a dramatic improvement over previous years. Additionally, he's already 45 PA past the 60 that FanGraphs suggests as the stabilization point for strikeout rate. This means that we can be confident that Polanco's approach at the plate to date has been more a result of a level of talent than luck, and if he can maintain something close to this talent level, he will have dramatically improved.
If we dive into his plate discipline figures, it's easy to see just how these changes have manifested.
| Season | O-Swing% | Z-Swing% | Swing% | O-Contact% | Z-Contact% | Contact% |
| --- | --- | --- | --- | --- | --- | --- |
| 2014 | 26.1 % | 59.0 % | 41.9 % | 60.5 % | 87.5 % | 78.8 % |
| 2015 | 31.2 % | 60.5 % | 44.1 % | 67.3 % | 90.8 % | 81.5 % |
| 2016 | 26.6 % | 65.6 % | 42.2 % | 68.3 % | 92.9 % | 83.7 % |
From 2015 to 2016, Polanco has cut down his O-Swing% by 14 percent, increased his Z-Swing% by 8.43 percent, and improved his Contact% by 2.7 percent. Simply put, Polanco is laying off more pitches that are outside the zone, swinging at more that are inside, and all while making more contact. He's also swinging and missing far less than he ever has before in his career.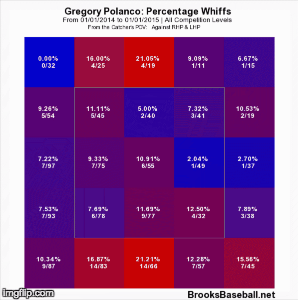 In 2014, Polanco was swinging and missing at pitches all over the zone. Whether it was low, high, inside, or outside, he had a tendency to whiff. While he still had a significant number of red zones in 2015, he had greatly improved on pitches within the zone, as most of his whiffs were now coming on pitches directly below, or above the strike zone. In 2016 however, Polanco has had few weaknesses.
On 124 pitches within the strike zone, Polanco has swung and missed just three times; and out of the total 397 pitches that he's seen, he's swung and missed only 32 times.
Polanco's approach at the plate has clearly improved, however that alone doesn't explain his sudden increase in offensive production. Sure, the walk and strikeout rates are certainly going to help him get on base more frequently, but what explains his 32.4 percent increase in line drives (19.7 percent in 2015 vs. 26.1 percent in 2016), and his 17.8 percent jump in his hard hit rate (30.3 percent in 2015 vs. 35.7 percent in 2016)?
The answer is likely tied to subtle changes that Polanco has made in his batting mechanics, which he made at the tail end of 2015.
While Polanco didn't alter his entire stance, he did make notable adjustments that seem to be responsible for his increased power. In the first video, which took place in July of 2015, Polanco was using a toe tap as his timing mechanism. His plant foot never really came off the ground, and instead he simply lifted up his heel, and dropped it back down when he began his swing. There's nothing inherently wrong with using a toe tap, but for Polanco it wasn't working.
In the second video, which took place in September of last year, Polanco began to use a leg kick, albeit a small one. Instead of using his old timing mechanism, he started to fully pick up his plant leg before the ball was on its way to home. He's continued to use this new approach in 2016, and in fact, it would appear that they're even more pronounced. Polanco has a more open stance, and with a higher leg kick than we've seen before, he's generating much more power.
There are still five months left of the regular season, but given the nature of Polanco's adjustments, there's no reason to be timid when making statements about his future. Polanco 2.0 has made some significant upgrades, and they're here to stay.
. . .
Matt Goldman is a Contributing Editor at Beyond the Box Score & MLB Daily Dish. You can follow him on Twitter at @TheOriginalBull.