Heading into the 2015 season, the Cleveland Indians expected big things from Yan Gomes. After being acquired from the Toronto Blue Jays in 2012, in exchange for Esmil Rogers, Gomes proceeded to have a breakout 2013 campaign. By various metrics, he was an above-average major-league hitter, and by fWAR, he was worth 3.3 wins. In 2014, he improved upon his statistics from the previous season, stamping his name as one of the top catchers in all of baseball, offensively and defensively.
However in 2015, his success came crashing to a halt.
| Year | PA | HR | BB% | K% | ISO | wOBA | wRC+ | fWAR |
| --- | --- | --- | --- | --- | --- | --- | --- | --- |
| 2013 | 322 | 11 | 5.6% | 20.8% | .188 | .359 | 128 | 3.3 |
| 2014 | 518 | 21 | 4.6% | 23.2% | .194 | .340 | 119 | 4.5 |
| 2015 | 389 | 12 | 3.3% | 26.7% | .160 | .283 | 77 | 0.8 |
After two consecutive years of fantastic production, Gomes managed a wRC+ of just 77 and an fWAR of 0.8. Across the board, his offensive metrics sank by significant margins. It wasn't without cause, though, as he suffered an MCL sprain during the fifth game of the season.
Gomes wound up missing the next six weeks, and he never returned to form. In 369 plate appearances after his injury, he produced a wOBA of only .290 and a wRC+ of 82. His power numbers never picked up, and hits that used to get driven over the outfielders were instead falling into their gloves.
While I was never a major league prospect, or destined for fame at the college level, I experienced similar struggles that Gomes just went through. After having knee surgery in 2009, I found it incredibly difficult to drive the ball. Without the ability to push off my back leg, it became rare to hit the ball in the gap, or past an outfielder — which, as Dustin Lind told me, could have been what was plaguing Gomes.
"As long as they feel good they are set to return in about 3-5 weeks, which would give him some extra time for rehab starts and conditioning. The human body deconditions roughly twice as fast as it conditions, so 3-5 weeks of immobilization could have a profound impact on the actual strength of the leg musculature.

I'm sure the Indian's rehabilitation and strength staff is excellent, and accounted for that in his rehabilitation. I'm interested to see how confident Yan was in his leg after the injury. The psychological factors involved with rehabilitation of a knee injury are extremely complex, and often have a bigger impact on post-injury performance than the strength and coordination of musculature. The athlete's strength may be there, but if they don't have confidence in the limb's ability to perform, it won't do much good."
Thankfully Lind didn't completely shoot down my hypothesis, and in fact, there seems to be some merit (both statistically and physiologically) behind the idea that Gomes may simply have never fully recovered from his MCL sprain. Even if he went through the rehab process effectively, there could have been psychological factors at play. Aside from the statistics already provided, there's more evidence that Gomes' lack of (perceived) strength was the source of his disappointing season.
If Gomes' batted ball data, specifically what types of hits he was getting, had changed, then his poor season could have been attributed to that. But that's not the case.
| Season | LD% | GB% | FB% |
| --- | --- | --- | --- |
| 2013 | 17.8 % | 43.5 % | 38.7 % |
| 2014 | 24.0 % | 36.7 % | 39.4 % |
| 2015 | 26.4 % | 33.6 % | 40.0 % |
While there was some variation in the individual percentages, there weren't any red flags in Gomes' data. In fact, with an increased line drive percentage, his results should have improved; however, with the lack of power, possibly tied to his MCL sprain, Gomes was making weaker contact.
In 2013 and 2014, Gomes' hard hit rates were 33 percent, and 31 percent, respectively; in 2015 that figure sank to 27.5 percent. Not surprisingly, his average batted ball distance on home runs, fly balls, and line drives cratered.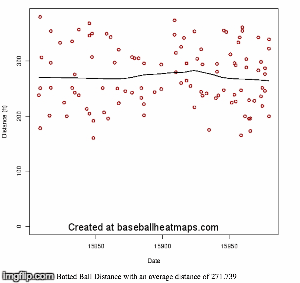 During the first two years, Gomes' average batted ball distance was nearly identical (271.7 feet vs. 272.6 feet). However in 2015, his average drives suddenly dropped to 262.9 feet.
While last year was undoubtedly a disappointing season for Gomes, given the nature of his injury, it shouldn't have come as a surprise. His struggles weren't attributable to a change in contact, but rather a sudden lack of power. With a full offseason to strengthen his back leg, there's little reason to worry that Gomes' will have another subpar year.
. . .
Matt Goldman is a Contributing Editor at Beyond the Box Score & MLB Daily Dish. You can follow him on Twitter at @TheOriginalBull.