A tad over a year ago, Jeff Samardzija was the centerpiece of a trade that netted the Cubs Addison Russell and Billy McKinney. You can say what you want about the trades that Billy Beane has made in the past year (hello there, MVP candidate Josh Donaldson), but a highly respected major league front office saw fit to pull the trigger on that trade. Samardzija, after all, had been great for Chicago that year. He had thrown 108 innings of 2.83 ERA ball with peripherals to back it up. Baseball had been waiting for years to see if Samardzija would to morph into a front line pitcher, and it had happened. Samardzija was also good for the Athletics after the trade (Jason Hammel, the other involved pitcher, was not) and it seemed that he had become the pitcher that the baseball world thought he could be.
Samardzija gave up ten runs on Tuesday night. His season ERA currently stands at 5.27 and he's about to become a free agent for the first time. Financially speaking, it's an awful time for Samardzija to have a bad season, however it allows us to engage in a bit of pondering. We know that Samardzija is a talented, but we also know that pitching is a volatile art, and that Samardzija is one of the more volatile pitchers in the game. We also know that the White Sox are decidedly not good at defense. In fact, Chicago has fielded the worst defensive squad in the league this year.
If we take a gander at Baseball Prospectus' new pitching metric Deserved Run Average, it says that Samardzija has really pitched like a 4.45 guy. That's still not good, of course, but it's a far cry better than 5.27. It doesn't necessarily say that Samardizja should pitch closer to that mark going forward either. DRA is designed to be an assessment of a pitcher's past work, not a predictor of future performance.
If we look at Samardzija's numbers, however, we can see that something has definitely changed in how he's pitching. We can't necessarily chalk it up to poor pitch framing by his catchers compounded by the bad White Sox defense. Both Tyler Flowers and Geovany Soto receive positive marks for their framing skills from BP. The defense is certainly doing him no favors. However, there's no defense for a hanging slider, and Shark's homer problem has been a key component to his lousy numbers.
The following GIF displays batters ISO against Samardzija's breaking ball (I had BrooksBaseball.net pull data for both curveballs and sliders just to be safe) in different parts of the zone in 2014 and in 2015. There's a bit of a difference.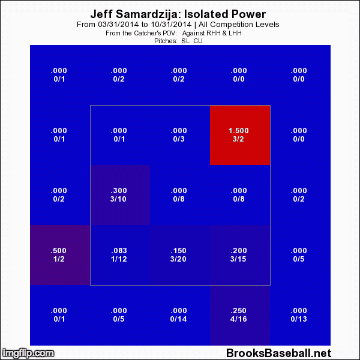 Batters didn't tee off very much on Samardzija's breaking ball in 2014. It was a relatively safe pitch for him to throw in terms of limiting big hits. The opposite has been true in 2015. Hitters are destroying Samardzija's slider when it's in the zone. It's also worth noting that he has thrown more sliders in the zone this year. For instance, Brooks says that he only threw eight sliders directly over the middle of the plate in 2014. He's already thrown 20 there this season and the White Sox still have a few weeks of baseball left.
This seems to be a control issue for Samardzija (no big league catcher worth his salt calls for meatball sliders, especially when batters are hitting .312 off the pitch). It's hard to be a good big league pitcher without a breaking ball that can induce whiffs and poor contact. This is the kind of problem that can be solved from year to year with proper coaching and fiddling, but the quandary of Samardizja's impending free agency makes this much more interesting. Unless he signs very quickly, he'll have to use an outside coach to work on his slider control or attempt to tackle the problem himself.
As I said, that's unless he signs early. It's entirely possible that a front office or two has pegged Samardzija as a fixable  buy-low option. There's a chance that due to his past success the White Sox tag him with a qualifying offer so that they can collect a draft pick when he signs elsewhere. Yet with Samardizja's volatility and loss of slider command, is there a team willing to sacrifice a first round pick on a fixer-upper in his 30s? No player has ever accepted a qualifying offer, even if it meant sitting out until June in the cases of Stephen Drew and Kendrys Morales. I'd be willing to bet that someone pounces on him even if he does get a qualifying offer, but it also wouldn't be completely surprising to see him accept a one-year deal to try to rebuild his value.
Let's say that he doesn't get a QO. Samardzija instantly becomes an interesting project signing in this case. Who do we know that excels at turning struggling pitchers into useful arms?
Meet Ray Searage, Pirates pitching coach. We all know that Pirates are the pitching version of King Midas. Francisco Liriano is the poster child for the kind of pithcher they can work on and fix. Searage also made Edinson Volquez look good, and he's doing it now with J.A. Happ. Neal Huntington adores making these kinds of moves and if a market doesn't develop for Samardzija's services, Pittsburgh would be a perfect destination for him. It's a pitcher's park and the Buccos have kind of figured out how to be defensive positioning savants. It's not hard to imagine a team like the Diamondbacks buy into the pitcher that Samardzija has been. Yet the Pirates could be the place that Samardzija finds the most success. They got Liriano for a song on a one year deal with a team option. He only signed for $1 million, and Samardzija will fetch far more. However if the Pirates can swing this, it could be an amazing coup for both player and team. Jeff Samardzija likely hit his ceiling last year. Now he has to figure out how to recapture some of that success.
. . .
Nicolas Stellini is a featured writer at Beyond the Box Score. He also covers the Yankees at Pinstripe Alley. You can follow him on Twitter at @StelliniTweets.