According to both bWAR and fWAR, the Arizona Diamondbacks have two of the top nine qualified position players. It shouldn't be much of a surprise at all who their highest-ranking player is because he has been nothing but gold (I'll see my way out) thus far. As that terrible pun implies, Paul Goldschmidt has not only been seen as the leader and cornerstone of the sub-.500 Diamondbacks, he has played like it. In fact, BtBS writer Matt Goldman commanded us to appreciate the awesomeness that is Paul Goldschmidt earlier this season.  Then there's the other high-ranking Diamondback.
Much like Goldman did earlier this year, I would like to bring more attention to another budding superstar in Arizona. When you think of the top players in Major League Baseball, A.J. Pollock might not be the first to come to mind, but he should be in the conversation. The 27 year old currently ranks second in fWAR among National League outfielders and fourth in the NL overall, but that isn't the best part. Pollock is a special type of well-rounded player. There are four players that have above a 4 BsR, 110 wRC+, and 3 UZR/150 this season. Those four players? Kris Bryant, Lorenzo Cain, Jason Heyward, and—you guessed it—A.J. Pollock.
Defense
Even before he underwent an outburst of offense, the center fielder was always able to track down baseballs with the best of them.
Over 915.2 innings in 2013, Pollock owned the best UZR/150 in the MLB with an eye-opening 28.6 in his first full season and the MLB 2nd-best 15 DRS. He followed that up with a 19.0 UZR/150, 10 DRS performance across 576 innings in an injury-shortened 2014 season. This year, Pollock has posted 11 DRS and an 11.6 UZR/150 in 959 innings—good enough for 5th and 6th, respectively, among the 24 qualified MLB center fielders. Expanding the data to encompass 2013-2015 to give a larger sample size, Pollock still resides in 5th in DRS and 5th in UZR/150 among center fielders who logged at least 1,000 innings over that time.
What sticks out the most is not just that Pollock is a great defender, it's that he uses his speed—which we'll discuss later—to affect his range positively. In 2013 he had a 15.7 RngR, in 2014 he had a 6.7 RngR, and this season he has a 7.8 RngR. All pointing to Pollock having well above average range.
Baserunning/Speed
If you do nothing else today, watch this .gif of Pollock in 2013 running so fast that he makes other guys look not fast.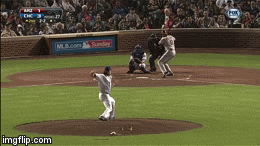 By the very casual stopwatch on my phone, that is a 3.8 second home to first time. Impressive would be the correct way to describe that specific play. Of course he will not always run that fast from home to first, but this shows Pollock has considerable speed. Speed and good base running skills are not synonymous.
As 56 career stolen bases and an 80 percent career stolen base percentage might suggest, the young righty can steal a base. However, since making his debut in 2012 at the age of 24, Pollock has managed to improve his base running on a yearly basis. This season, there's no denying that base running has become more than an interesting facet to Pollock's game—it's become crucial. Take a look at how his improved base running breaks down year to year:
I thought Diamondbacks slither?

| | | | | | |
| --- | --- | --- | --- | --- | --- |
| Season | BsR | Spd | UBR | wGDP | wSB |
| 2013 | 1.2 | 6.4 | -0.2 | 0.5 | 0.9 |
| 2014 | 2.4 | 7.8 | 0.3 | 0.7 | 1.4 |
| 2015 | 5.4 | 7.5 | 3.5 | -1.3 | 3.2 |
It is that speed and base running ability Pollock possesses that has been ranked among the top 10 in nearly every major component of the aforementioned categories. Once Pollock gets on base he can really do some damage. Judging by his offensive numbers, that is just what he has done.
Hitting and Power
This aspect of Pollock's game is by far the main reason he should now be seen as a top MLB player. Before 2014, the former first round draft pick hit just around league average, though it was just his rookie season. However, it was after this season that Pollock made an adjustment that has been one of the biggest reasons for his increased power. Check out this video of Pollock's swing in 2013, 2014, and then 2015. Pretty similar for the most part, right? Now let's take a closer look, but focus on his front foot and bat this time: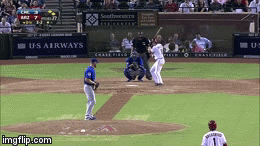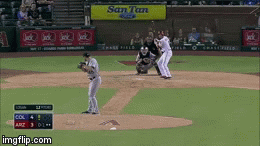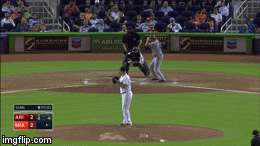 Two things should stick out. Pollock changed from the toe-touch in 2013 to a leg kick in 2014, then lowered and quieted his bat pre-swing following 2014. These two adjustments are two of the main reasons that Pollock saw a noticeable increase in his power numbers. It is often thought that the leg kick gives a hitter more rotational power, which would explain the recent increase in power numbers Pollock has seen since 2013. As for the bat positioning, that could help create more of a rhythm as an almost 'calm before the storm' thing. Without the constant movement of the bat Pollock showcased pre-2015, Pollock might be able to load more on tune with his leg kick—thus allowing him to have better timing when swinging.
On the Offensive

| | | | | | |
| --- | --- | --- | --- | --- | --- |
| Season | ISO | BB% | K% | wOBA | wRC+ |
| 2013 | .140 | 6.8% | 17.0% | .321 | 98 |
| 2014 | .196 | 6.6% | 16.0% | .372 | 134 |
| 2015 | .165 | 8.1% | 13.9% | .363 | 128 |
As you can see, it's not just power that Pollock found, but it's been offense in general. This tweak in his mechanics and the addition of natural power might just be the culprit to his breakout.
These two changes could also be responsible for Pollock's new-found power on faster pitching. Check out how he has changed against any type of fastball 94 MPH or higher:
Hot Hot Hot

| | | | | |
| --- | --- | --- | --- | --- |
| Season | AVG | Raw # | ISO | BABIP |
| 2013 | .269 | 22/64 | .096 | .289 |
| 2014 | .238 | 5/21 | .238 | .263 |
| 2015 | .344 | 14/52 | .188 | .392 |
The adjustment Pollock made precipitated the power surge when facing faster pitching, but it might not be the only possible cause; Pollock has changed his general approach to them as well. In 2013 he took the majority of these types of pitches back up the middle; however, the next two seasons he began taking them to the opposite field. So not only is he beginning to hit for more power, but he is doing it to the opposite field as well.
It is this latest addition that has made Pollock lethal. Now that he is able to hit and hit for power to all fields, it wouldn't be too much of a stretch to say he might be developing into one of the top players in baseball. As I mentioned before, there are not many players who can run, play defense, and hit at as high of a level as Pollock currently is. Although he could have been the gracious recipient of two straight seasons with high BABIPs (.344 and .348), Pollock hasn't showed signs of slowing down.
So it's time for A.J. Pollock to start getting the recognition he deserves. Although Pollock posted a 3.6 fWAR in 2013 and a 3.3 fWAR in 2014, the veteran did not get over 500 plate appearances in either year. For a young player to do that right out of the gate should signal the rise of a good player, and for a young player to repeat that good play consistently should signal the rise of a star. Should Pollock continue these trends, we are witnessing the rise of a star, if he isn't considered one already.
. . .
Shawn Brody is a contributor for Beyond the Box Score as well as a sophomore pitcher at Howard Payne University majoring in Business Management. He has the current misfortune of being a Red Sox fan. If you would like to get a hold of him, please feel free to email him at Shawnbrody9@gmail.com or follow him on Twitter @ShawnBrody.