Way back in the days of yore, we spoke of Alex Rodriguez with reverence. We watched in awe as a titan of physical ability attacked the science of hitting with an artist's masterstroke, and manned his position with aplomb. How we marveled at the pure natural talent that looked to have a chance to be one of, if not the best shortstop of all time.
A-Rod closed the month 9-for-28 (.321) on @NYDNSports back pages. What a comeback!

— Jesse Spector (@jessespector) February 28, 2015
This is not an article about the morality of Rodriguez's choices. This article will not delve into how performance-enhancing drugs caused his body to swell and possibly, in turn, his statistics. That is a subject for a different corner of the Internet, and a different time. This article discusses the effect his extended sojourn from baseball could have on his body and statistics.
More from our team sites
More from our team sites
Rodriguez is 39, which is a fair bit older than the average ballplayer. Unlike most ballplayers his age, Rodriguez is pretty out of practice. You may have heard he worked on his swing with Barry Bonds during his time off. That's a pretty good sensei to team up with when you're looking to re-tool your swing. Yet it's not Rodriguez's efforts that will necessarily have the biggest impact on his level of success. Even before the drugs came into the equation, Rodriguez was obscenely talented, and it stands to reason that there's some shred of divine physical blessing still inside him somewhere. Therefore we can form some sort of reasonable expectation that whatever loss of bat speed the former slugger has experienced may not be completely catastrophic.
Until Rodriguez can demonstrate otherwise, it's a pretty safe bet that opposing pitchers are going to challenge him with fastballs in his weak spot. The following charts display the areas in which Rodriguez has been the most prone to swinging and missing at fastballs. The charts, conveniently displayed in the form of a GIF in sequential order, show that he's been prone to whiffing in the top of the zone: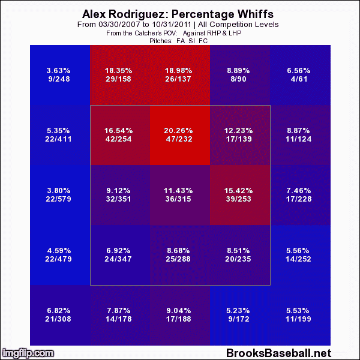 Without question, the fastballs will largely be headed north, and in staggering numbers. It's not just that Rodriguez has trouble making contact there, it's that ever since 2012 (the year after he'd torn the meniscus in his right knee), he's been slugging more and more against fastballs in the lower half of the zone. Another GIF for your viewing pleasure:
Barring a scouting report out of spring training that speaks to the contrary, opposing pitchers have very little incentive to throw Rodriguez a fastball anywhere but in the top of the zone to minimize both the amount he'll make, and the quality of that contact. Rodriguez's contact rate peaked in 2010 with a mark of 79.8%, and since then it's dropped steadily every year. In a limited sample size (181 plate appearances), Rodriguez managed to only make contact 72.2% of the time. That was the lowest mark of his career. He still managed a 113 wRC+ in that time because, of course, he's Alex Rodriguez.
Like a good Jeff Sullivan article, I've used the above space to say that we (myself especially) don't really know anything, and everything is just speculation at this point (Note: I'm not criticizing Jeff. He's a brilliant man). What we do know is that age is death to bat speed, and it's a lot worse when one hasn't seen big league pitching in quite some time. I wouldn't bet against Rodriguez's natural ability, and if he can cobble together a decent amount of plate appearances at DH, I would wager he can be somewhere near league average. Whether or not injuries wreak havoc on him is another factor entirely and it remains to be seen if he can even make it out of Spring Training intact. 2015 could very well be the swan song of the man who once was poised to be the one of greatest to ever play the game.
In a way, he still is one of the best to ever play. By fWAR he's the 14th greatest of all time, just behind Mickey Mantle, and six home runs away from tying Willie Mays for fourth place on that list as well. PEDs did not grace Alex Rodriguez with a discerning eye for pitches and a beautifully destructive swing. Those gifts are what must now carry him to the finish line of his career. It is this, and not the pomp and circumstance and theatrics of his return to Yankee Stadium that will be the most fascinating part of his upcoming season. There's a very real chance that all this will not end very well. Yet I'll be damned if I miss what could be a very special show…
. . .
All stats, charts and injury information courtesy of Fangraphs, BrooksBaseball, and BaseballProspectus.
Nicolas Stellini is a contributor at Beyond the Box Score and a member of the IBWAA. You can follow him on Twitter @StellintTweets.