Being that it's Thanksgiving, I decided to deviate from the normal insightful and original baseball research typically found on the site. Don't worry -- that will return tomorrow as normal, but today we've got something more appropriate to the holidays.
Because Thanksgiving isn't just a day to give thanks for all the important people in your lives; it's also the socially accepted beginning of holiday shopping. While finding gifts for baseball fans can often be difficult because the holidays occur in the middle of the offseason, nothing really compares to a quality baseball book, especially this time of year when there are no games to watch (outside of the winter leagues). With that in mind, I've compiled a list of my top 15 baseball books* -- many with a distinct saber-slant -- that you can look to pick up this holiday season for a friend, loved one, or even yourself. And if you don't like my choices, or you've read the majority of these titles already, at the bottom you will find a link to a Google Doc that has a list of more than 50 titles deemed the best baseball books by our readers. Enjoy!
The Book: Playing the Percentages in Baseball by Tom Tango, Mitchel Lichtman, and Andrew Dolphin
The Book is aptly named because it's essentially the definitive saber-baseball book at this junction in history. Whether you're a hardcore baseball analyst or a more casual fan looking to get your first exposure to sabermetrics, The Book is highly recommended. While I should warn you that it's a little math heavy and therefore not the easiest read at times, Tango, Lichtman and Dolphin do phenomenal research on lineup optimization, the hot hand theory, clutch skills, protection, and when teams should bunt. Plus, it's where wOBA -- one of the most frequently used offensive statistics on BtBS -- originated and truthfully it's unusual if a week goes by where the research isn't referenced in at least one article on the site. It's that important.  If you or that special baseball fan in your life hasn't read The Book yet, make sure to pick up a copy soon.
Moneyball: The Art of Winning an Unfair Game by Michael Lewis
You ever talk about a movie with someone that read the book? They're always so condescending. 'Ah, the book was much better than the movie.' Oh really? What I enjoyed about the movie: no reading. -- comedian Jim Gaffigan
Jim Gaffigan jokes aside, the book is far better than the Academy Award-nominated movie starring Brad Pitt and Jonah Hill, especially if you're more than a casual baseball observer. We all are somewhat familiar with the story by now, but the book is packed with interesting information on the draft, player valuation, and the fusing of scouting and statistics. Although author Michael Lewis isn't a "baseball" guy per say, he is an excellent writer and he crafts a story that is intelligent, informative, and funnier than you would expect. It's not about on-base percentage, or walking a lot, or how smart Billy Beane is -- it's about finding market inefficiencies, and building a winning team as cheaply as possible. I read the book for the first time when I was in high school, and I read it again about a year ago, enjoying it even more the second time through. The movie has made this a cliché choice as a "favorite" baseball book, yet that doesn't make it any less wonderful.
Baseball Between the Numbers: Why Everything You Know About the Game Is Wrong by The Baseball Prospectus Team of Experts
Chosen by Amazon as the best baseball and sports book of 2006, Baseball Between the Numbers is another great book for those interested in learning more about objective analysis. The book features multiple BP authors -- Jonah Keri, Nate Silver, Steven Goldman, and more -- covering 29 different baseball topics. Chapter titles include "Is Barry Bonds Better Than Babe Ruth?", "Is Alex Rodriguez Overpaid?", and "Why Doesn't Billy Beane's S*** Work in the Playoffs?" With different writers covering each of the different chapters, the book can be read in any order, with each question acting as a stand-alone entity. The information is presented in a manner that is easy to digest for baseball fans with any level of sabermetric background, and like the best writing available, it willundoubtedly change your view on at last parts of the game.
Extra Innings: More Baseball Between the Numbers from the Team at Baseball Prospectus
After the resounding success of Between the Numbers, Baseball Prospectus decided to pose and answer even more questions with the 2012 follow-up, Extra Innings. Again the book is split into 18 individual sections, each with a separate author dealing with a different baseball discussion point. Chapter titles in this one include doozies like "How Are Players Scouted, Acquired, and Developed?", "How Can We Measure the Impact of Managers?", and "Is It Possible to Accurately Measure Fielding Without Shoving a GPS Device Up Derek Jeter's Ass?" And the list of authors is just as strong if not better with a lineup that features three writers (Mike Fast, Dan Turkenkopf, Colin Wyers) that now work in major league front offices as well as great writing talents like Ben Lindbergh, Jay Jaffe, and Jason Parks.
The New Bill James Historical Baseball Abstract by Bill James
To many, Bill James is the single most important person in the sabermetric movement, and in fact, Time Magazine named him one of the top-100 most influential people in the world in 2006. His first Baseball Abstract was published in 1977 and he continued pumping them out until the late 80's, gathering a larger following with every successive year. In the midst of those releases, he put out the Bill James Historical Baseball Abstract, hailed as the holy book of baseball by the Chicago Tribune. The "new" version of the book just updates the old information, keeping the same format. The Abstract is broken into three separate parts, one dealing with the history of the game, one looking at the top players at each position, and a final section that deals with everything one could ever want to know about win shares. As the premier book from the premier sabermatician, The New Bill James Historical Baseball Abstract was an easy choice for the list.
The Numbers Game: Baseball's Lifelong Fascination with Statistics by Alan Schwartz
If you frequent Beyond the Box Score, it's likely that you enjoy using statistical and objective analysis to evaluate baseball. When and how did the game become so driven by data and numbers? Many would say that it's only happened recently, but the truth is baseball has been tracking statistics since its invention in the 19th century, and in The Numbers Game, Alan Schwartz traces the history of those very figures. He starts with Henry Chadwick, the creator of the very first box score, and he runs through innovators all the way to John Dewan, who has built STATS Inc. and Baseball Info Solutions. A fun unconventional story, The Numbers Game was named ESPN's 2004 Baseball Book of the Year.
The Extra 2%: How Wall Street Strategies Took a Major League Baseball Team from Worst to First by Jonah Keri
The spiritual follow-up to Moneyball, The Extra 2% is the story of the Tampa Bay Rays and how they went from the cellar of the American League East to perennial contenders with the guidance of Stuart Sternberg, Matthew Silverman, and Andrew Friedman. Unlike Michael Lewis, though, Jonah Keri is a baseball guy, formerly of Baseball Prospectus and now at Grantland, and it shows (in a good way) in his writing. There are some great anecdotes here, especially one about a Rays scout that wanted the team to select Albert Pujols in the first round, as well as some guiding principles for running any successful business. If you've ever wondered how Andrew Freidman came to be one of the best general managers in the game, where Joe Maddon came from, or what exactly happened to the "Devil" in Devil Rays, it's all in there.
The Hidden Game of Baseball by Pete Palmer and John Thorn
If you ask many of the top saber-writers what works inspired them to get their start, The Hidden Game of Baseball will be among the most frequently referenced works. Essentially Pete Palmer and John Thorn's masterpiece is the predecessor to The Book, laying the foundation for much of the wonderful work we have seen in the past 20 or so years. Interestingly, because the book was last updated in the mid-80's, the chapters regarding offensive performance lack many of today's current leaders. Some might say the work is outdated at this point, but as one of the building blocks of sabermetrics, it will forever remain one of the classics. If Catcher in the Rye hasn't outlived its usefulness, then neither has THGOB.
The Stark Truth: The Most Overrated & Underrated Players in Baseball History by Jayson Stark
Without fail, you can mention nearly any major league baseball player and someone, somewhere will claim the player is overrated, while someone elsewhere will declare the player to be underrated. Confusing? It sure is. But the arguments also can be fun even if they never come to much of a verdict. Well, until ESPN's Jayson Stark took it upon himself to give us the most overrated and underrated players in the history of baseball. What I personally really like about the book is that Stark doesn't take the easy way out, labeling some of the biggest stars of all-time the most overrated at their respective positions. Of course, the terms "overrated" and "underrated" are completely relative and the author acknowledges that in what turns out to be a really fun read sure to inspire some quality disagreements.
Mind Game: How the Boston Red Sox Got Smart, Won a World Series, and Created a New Blueprint for Winning by Baseball Prospectus Team of Experts
Mind Game isn't much of a deviation from Moneyball or the Extra 2% (yes there's a pattern here) except it focuses on the mighty Boston Red Sox instead of a small market club. Personally, I don't think that makes it any less interesting, especially considering the far more tortured nature of the Red Sox fan base over the years. After seasons upon seasons of following conventional baseball logic with losing results, the Red Sox ditched what they'd been doing in the past, and snapped an 86-year title drought. The book begins in the early days of baseball, starting with the background of the team and the alleged curse that haunted the city for so long. Mind Game is full of insight into the Theo Epstein hire, how David Ortiz ended up in Boston, and the trade that sent the franchise's best shortstop out the door.
Diamond Dollars: The Economics of Winning in Baseball
Interested in the business of baseball and how revenue impacts the game on the field and vice versa? Look no further than Diamond Dollars, the top reference available. If you've ever thought baseball players are paid far too much, be sure to check this out before you go on with that assumption. Written by Society for American Baseball Research President Vince Gennaro, Diamond Dollars explores how money is changing the game, from new ownership groups to regional and national television contracts. The book also delves into a very important sabermetric concept, the win curve, and how a team's spot on said curve can really impact how they view transactions. Whether you're a fan of a small market club or the New York Yankees, Gennaro will help you to better understand why your team spends its money the way it does.
Dollar Sign on the Muscle by Kevin Kerrane
Admittedly this is slightly cheating because it's the only title on my list that I have not read yet, but being that I just ordered a copy I'll take care of that in no time. Dollar Sign on the Muscle is about the world of scouting, apparently going more in depth than any book of its kind. Originally published over 20 years ago, Baseball Prospectus took it upon themselves to update and re-release the book this year. It's hailed as one of the all-time great baseball works, and I can't wait to read it.
The Signal and the Noise: Why So Many Predictions Fail -- But Some Don't by Nate Silver
Okay, so maybe this is cheating too since it's not technically a baseball book, though it was written by Nate Silver, formerly of Baseball Prospectus before moving into the realm of political forecasting. And it's a great book, particularly if projecting performance in the future interests you. Silver uses a wide array of examples -- chess, the stock market, weather, politics, and baseball among them -- to illustrate the problems with most projections and offer ways to improve upon them. It sounds slightly over-dramatic to call the book "eye-opening," but it has changed my outlook and line of thinking for the better I'd say. It's a very smart, well-thought out book, and this is the one book on the list that is relatable to those weird, non-baseball fans you may have to shop for as well.
Off Base: Confessions of a Thief by Rickey Henderson and John Shea
Before "Manny being Manny" became a thing, there was Rickey Henderson, arguably the greatest leadoff hitter, base-stealer, and performer baseball has ever seen. Usually I don't enjoy baseball biographies, or autobiographies, but Rickey Henderson is so unique that I make an exception for his story. What I expected was a book full of stories like the time Henderson framed a million dollar check rather than cashing it, but it's much more than that. I came away from my reading with a new perspective and respect for Henderson, as a competitor and as a person. If books specific to baseball players are more up your alley, I'd say Off Base is the way to go.
Now I Can Die in Peace by Bill Simmons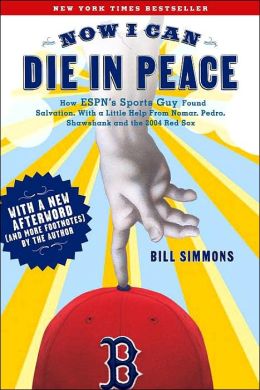 After winning three championships in the last ten years, the Red Sox 86-year title drought is seemingly a distant memory these days. But as any Sox fan will tell you, nothing will ever top the feeling of the 2004 World Series and all the pain that was washed away that year. In honor of the title, Bill Simmons released Now I can Die in Peace, a collection of columns he wrote at his Boston Sports Guy site and ESPN.com from 1998 to 2005 with some slight modifications. In his own words:
If the original columns were like unpublished entries in a journal, this is the final polished version of that journal -- how I found salvation as a Red Sox fan, with some additional material thrown in when necessary. Think of it as the director's cut of a DVD, with the footnotes serving as the commentary.
For Boston fans the book is an absolute must own and for everyone else it's still a thoroughly entertaining read on what it's like following a team through all of their ups and downs.
*I didn't include annual publications like the Baseball America Prospect Handbook, The Hardball Times Annual, The Bill James Handbook, etc. in my list, but all of those make wonderful gifts as well, as do a subscription to Baseball Prospectus or a membership to SABR.
. . .
Andrew Ball is a writer for Beyond the Box Score and Fake Teams.
You can follow him on twitter @Andrew_Ball.
More from Beyond the Box Score