I am happy to say that the Beyond the Box Score Saber-Slanted Fantasy League, brought to you by CBSSports.com, is filled to the brim and ready to draft! In this short piece, I'll detail a little bit more about the scoring system and investigate the impact of changes to the saves/holds categories.
But first, let me make a few quick announcements.
- The following people are officially in the league:
BtB Authors/Alumns
- Yours truly, Michael Jong
- Sky Kalkman
- Erik Manning
- JinAZ
- Jack Moore
These are the esteemed gentlemen with whom the BtB readers will be competing. And who are these readers?
Readers
- billp
- Zach Sanders
- viktor06
- I miss Jack Buck
- JBrew
- Alex
- Shane
- LeeTro
- kidlondon
- Nathan Holmes
Congrats to all who got signed up. Viktor, I'm missing a team name from you, unless you would like to have your team known as Team 3.
- The second announcement is a slight rules change. You will now require 6 SP and 3 RP for your active roster.
- The tentative draft date is set for next Saturday at 8 pm. Please talk to me if there are any issues with that time, I'm very flexible on this.
Now, onto the rules talk.
There was a lot of contention regarding the rules for pitchers, particularly for relievers. While JinAZ' initial points design was designed to give more credit to relievers to simulate the leverage aspect by giving them more points for saves/holds, many of our readers found that preposterous because of the fact that saves, in and of themselves, are useless. Still, I liked the idea of seeing elite closers get point totals similar to average starters, but I knew that there may be an issue with poorer relievers getting too many points.
I took standard and WAR data from 2008 and 2009 from FanGraphs for all pitchers. I then instituted three point systems that were very similar: one with with the scoring system as is (5 pts / save), one with no points for saves, and one with a middle ground of 3 pts / save. I ran a linear regression of WAR with each of these point system results, yielding the following results.
5 pts / save
3 pts / save
0 pts / save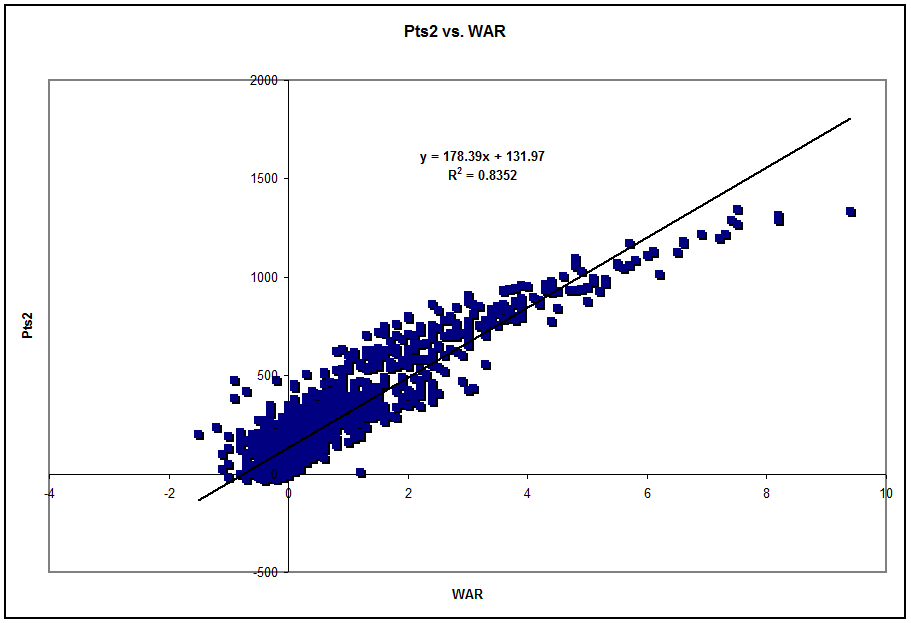 The correlations between WAR and these point totals vary very slightly, with the 5 pt, 3 pt, and 0 pt versions all around 0.83 - 0.835. With values this close, I'd be an idiot to argue for any given one. I'm inclined to go with the opinion of the league members. I attached a poll for those readers interested in the league as well; in light of this "research," what do you think would be the best system to use?
And the pitch, again
I would be remiss if I did not mention that you too could run your own CBSSports.com Commissioner Fantasy Baseball League if you don't like the one here on BtB. In addition, not only should you go ahead and run one, but SBNation is giving you a chance to do so at a reduced cost, only $90 instead of the regular $180!
Here's how you can do it. Get to CBSSports.com via this link and you can go ahead and set up a league as similar or dissimilar to mine as you'd like. Not only will you get half off on your Commissioner League, but you'll also cut me a little bit as well, and you'll in turn receive my gratitude. And really, isn't that the greatest gift of all?
Here's some of the features of the league in which you may be interested:
- Customize entire league the way you want...rules, scores, teams + more
- LIVE scoring & stats so you can follow along as your teams rack up points
- Keeper league capability to carry on the tradition for many seasons to come
- Expert analysis provides up-to-date information on all players & teams
- Live chat/league messenger to trash talk with your competition
- 14-Day Free Trial included
Again, if you're interested, go and get your half-off Commissioner League from CBSSports.com and start the league you always wanted to have.
CBSSports.com is an SB Nation partner and paying sponsor of the SB Nation baseball communities.
This post is one of a series of sponsor endorsed posts related to the CBSSports.com Fantasy Baseball
Commissioner League.