---
Kevin Millwood
---
---
W-L
G
GS
CG
SHO
SV
BS
IP
H
R
ER
HR
BB
K
ERA
WHIP
2009 -

Kevin Millwood

11-10
29
29
2
0
0
0
182.2
181
82
77
24
68
111
3.79
1.36
---
Thanks to Monday night's solid but unspectacular seven-inning performance, Kevin Millwood passed the 180-inning mark for the season. This is pertinent of course because this guarantees his $12M option for next season. In light of this development, I was reminded of the early season brouhaha regarding Millwood's numbers prior to the All-Star Break.
After 112 2/3 innings pitched (469 batters faced), Millwood was sporting a nifty 2.64 ERA, had won eight games for the Rangers, and was being touted as an All-Star candidate. But over at FanGraphs, R.J. Anderson disagreed, then Rob Neyer concurred, then Evan Grant vehemently denied, and even Adam Morris jumped in on the fun. Just by looking at the comments over at Lone Star Ball and Neyer's blog, you could tell the discussion was, shall we say, heated.
At the time, I too was a "Kevin Millwood hater," and I thought my suspicions were confirmed when I saw that Millwood's ERA since then was a more ghastly 5.66 in 70 innings pitched (315 batters faced). But when I looked at the numbers, I found I was only mostly right.
Not that Strand Rate Stuff Again
Millwood has had his ERA jump between average, below average, well below average, and now a good deal above average. But when we look at his defense-independent measures, he hasn't had a whole lot of variance since becoming a Ranger.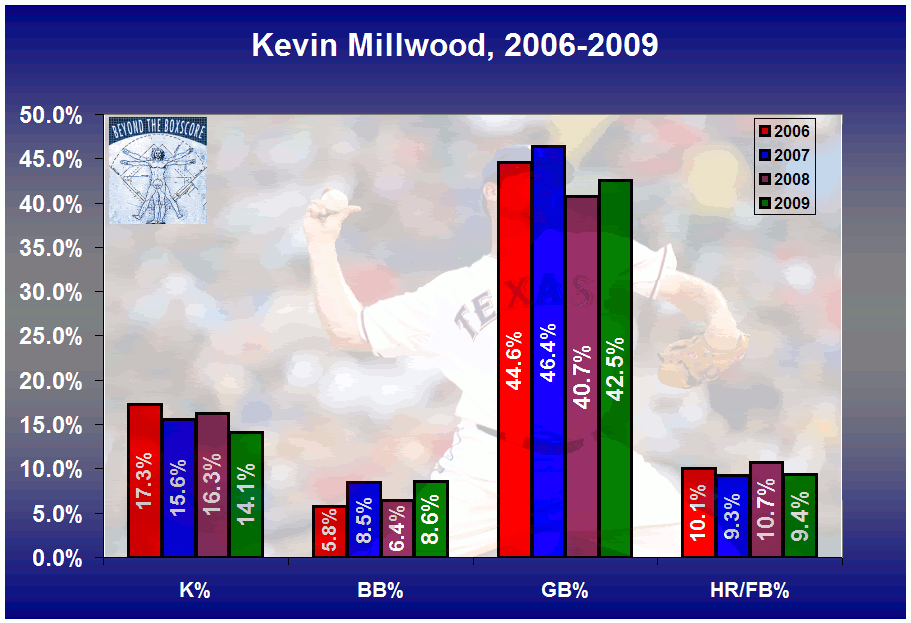 Looking at these values, his most comparable season is 2007, the year which R.J initially quoted in the first article. The strikeouts are down a bit from '07, but the walks and HR/FB% are more or less exactly the same. The difference has mostly been fly balls; MIllwood has allowed 38% of his balls in play to go through the air this season, while 2007 Millwood had 34.5% of his balls in play lifted into the air. It's also worth saying here that Millwood's pitches haven't changed much according to Pitch f/x either, perhaps quelling the idea that his improvement has been mechanical.
So where are the differences between these results? It all lies in, you guessed it, BABIP and strand rate.
In the last few seasons, when Millwood has posted 5+ ERA's, he's been victimized by a fairly high BABIP, and for a pitcher who doesn't miss bats consistently, this can have a huge effect on his results. However, this season he's benefited from a low BABIP, especially for a pitcher who allows essentially a league average batting profile. It has been mentioned that this is in part due to a vastly improved defense behind him; according to FanGraphs, Texas is fifth in team bUZR, and Justin's Power Rankings has them as the third best fielding team in baseball when accounting for THT's batted ball statistics. However, it is likely that it isn't all a result of this huge swing in defensive efficiency.
The other major culprit that has made Millwood's play seem great at the start of the season and above average now is his high LOB%, or strand rate. At the time of R.J.'s piece, Millwood had an astronomically high 86% strand rate. Since then, it has dropped down to 78.6%, still around 10% better than his average the three previous years in Texas. Again, some of this should be defense, but some more of this should be a healthy spattering of good fortune. This is nothing new; R.J. more or less said this in his first post.
So, is that what we can contribute to the decline of Kevin Millwood since that "discussion" began? Well, aside from his BABIP and strand rate, his strikeout rate did drop, but the 112 2/3 innings point was an arbitrary one; if we break up his season just two games back (to even out the number of batters faced a bit better), we'd see him striking out more batters in the second half thanks to a 15 strikeout performance over the course of those two games. It's more likely that his rate "dropped" as part of random variation rather than some problem such as mechanics. This did, however, combine with his regressing BABIP and LOB% to yield a more than one-run jump in ERA.
Is $12M Worth It?
Millwood is making $11M this season and, according to FanGraphs, has been worth 2.2 WAR and $9.6M on the year. He'll likely be close to breaking even on the season; ZiPS has him projected with a 4.63 FIP to end the season, which by my calculation gives him around 2.4 WAR (and the park factors I use characterize Texas as less hitter-friendly than FanGraphs' PF does).
Running a quick projection/regression using 4.8 R/G as the AL average and 8/4/2/1 for Millwood's Rangers performance, I get a value of 2.5 WAR, which would be worth $11.25M on the year. If you consider his age, 2 WAR would not be surprising, meaning that Millwood would not be projected to match his $12M salary using these methods. Still, with that projected total and the values on FanGraphs, Millwood's total contract worth would be estimated at $67.5M, mostly on the back of that 5 WAR season in his first year in Texas, a season in which he posted a 4.55 ERA but a 3.87 FIP. This figure uses WAR/win values from the 2008 offseason, and it is likely that the value of a win was a bit smaller when Millwood signed his contract. However, it seems evident that even including a bit of a decline in production at the back end of his contract, Millwood has more or less paid off exactly as the Rangers expected, which is more than the team can say for their other pitching acquisitions.