A post today over at Driveline Mechanics by vivaelpujols on a WAR comparison between two players who achieved their value in entirely different ways got me thinking about DH's and the discussion about their potential entry into the Hall of Fame despite a lack of defense.
Paul Molitor was inducted into the Hall of Fame in 2004 as the first player to play DH as his primary position (i.e., out of all positions, he played the most games at DH). But Molitor doesn't entirely count as a DH, as he played over 1400 games in the field and accrued over 13,000 innings in the field in his 20-year career. I think that justifies a claim that he wasn't the sort of full time DH that my title implies. When most people think about this debate, the name Edgar Martinez pops into their mind. Martinez logged 1412 games as a DH and only 4829 innings in the field in a 17-year career. Of the eight players who have played over 1000 games as a DH, only David Ortiz and Hal McRae have played less in the field than Martinez.
This should all point to a lot of negative DH runs for playing the most replaceable position on the field. How does that work in a Hall of Fame discussion? Thanks to Rally's historical WAR, here are two players with varying degrees of offensive and defensive value (WARNING: Blatant rip-off of VEP's format for this piece.)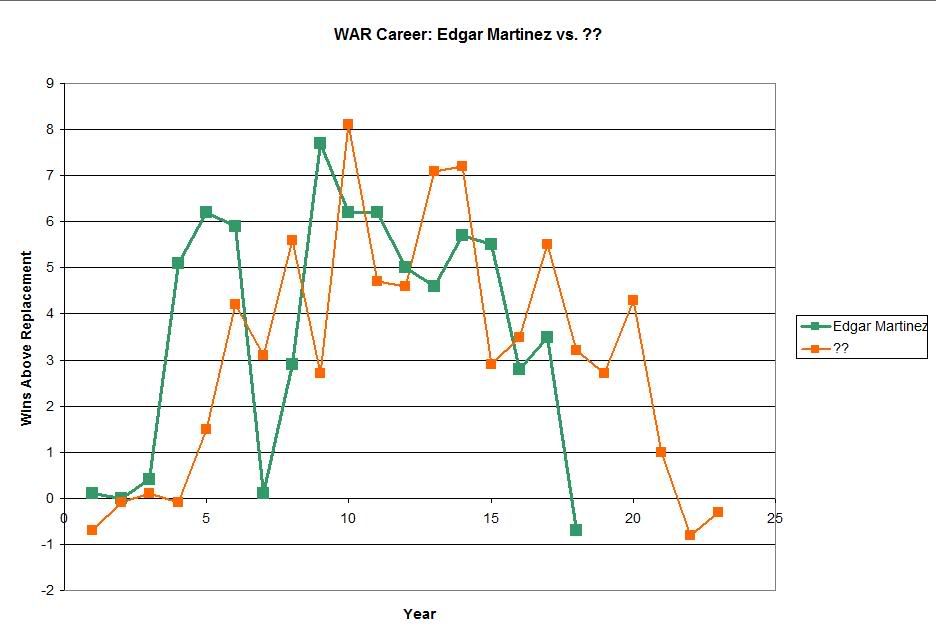 Answers after the jump.
The question-marked player amassed a few more wins than Martinez, but did so in five more years of service, two of which were considered above average. As mentioned, while Martinez got much of his value out of his bat, the questioned player did most of his work with his glove. The answer?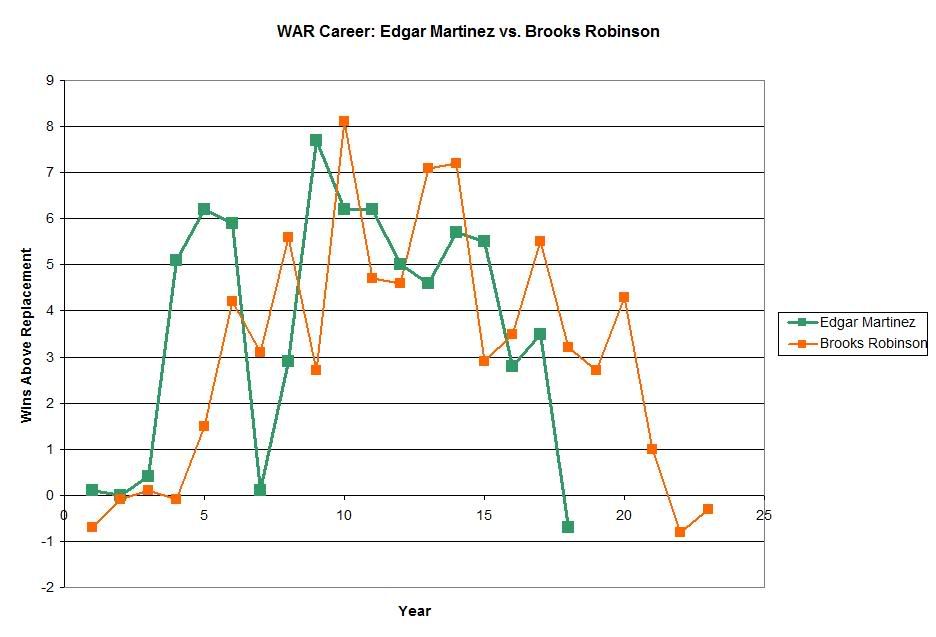 Robinson of course was well known for his glove, amassing 16 straight Gold Gloves at third base and tallying 268 runs above average defensively. Here's how their hitting compares.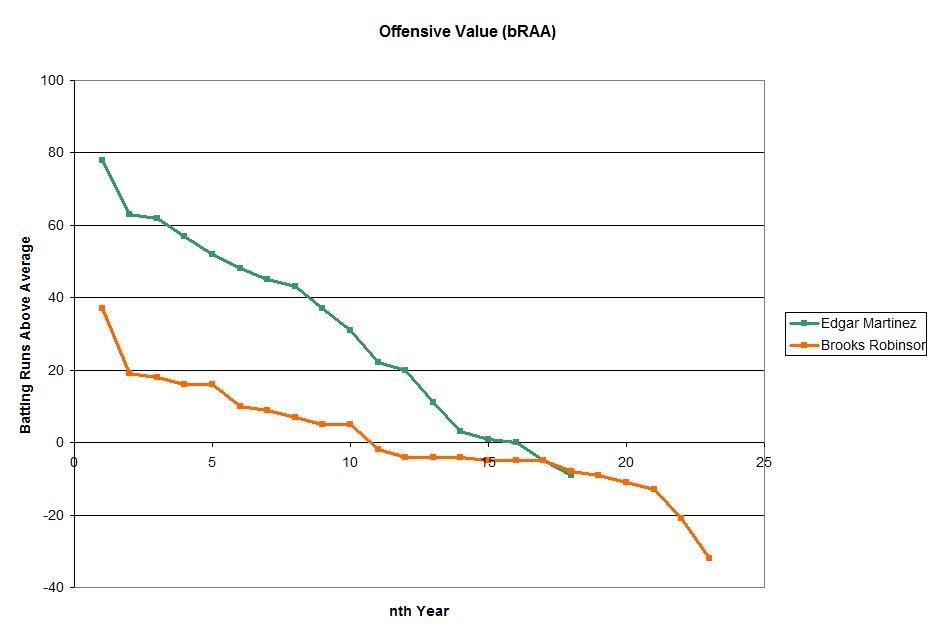 To no surprise, it isn't close. Robinson amassed 20 runs above average offensively over the course of his 23 year career, while Martinez had 559 runs above average during his significantly shorter career. The peak difference between their best years offensively was over 40 runs above replacement.
Here's the defensive side of the equation.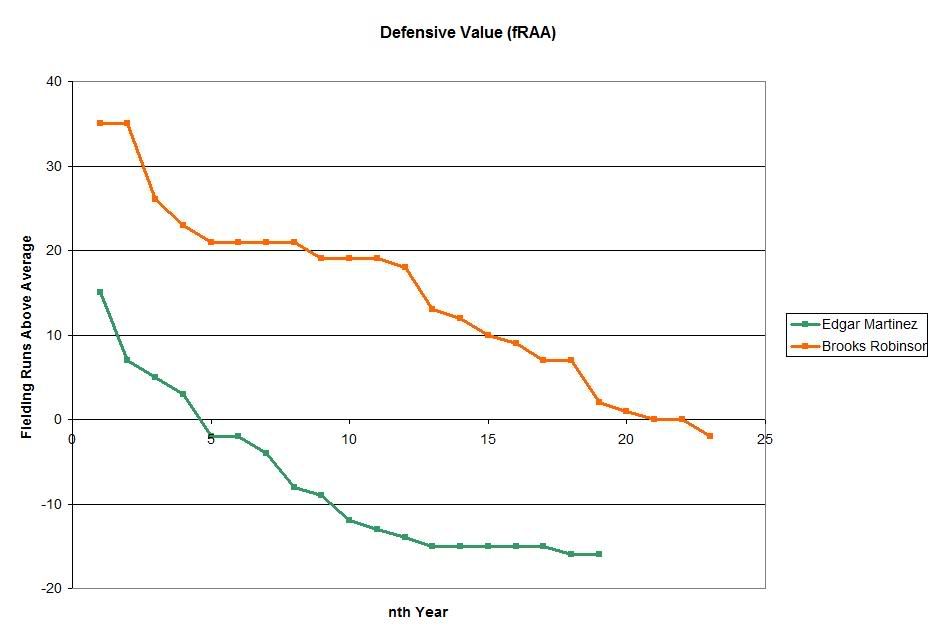 This isn't surprising either. Since Martinez DH'ed much of his entire career (essentially all of the negative run values come from DHing full time) and Robinson was one of the best defensive third baseman in the game, the differences here are enormous as well. The career difference in defensive value, including positional adjustment, between the two is 461 runs.
Within two wins either above or below Edgar Martinez on Rally's Top 500 position players, there are 10 current Hall of Famers, including Robinson, Tony Gwynn, Gary Carter, and Carlton FIsk. It's true that to be a DH that makes the Hall of Fame, one would have to put up significantly superior hitting numbers in order to come close. I don't think we'll see player who will have better credentials for the Hall as a full-time DH than Martinez in some time. He should be in there when he's ellgible in my opinion. Hopefully the DH stigma doesn't hinder his chances too much.